Camp Staff
Kids Playing Camp Inc. is Directed by Pros!
When you're sending your kids off for fun-filled days, you want to know they're in good hands. That they're being guided, nurtured and protected. With Kids Playing Camp Inc., you can relax and enjoy your free time. Our camp instructors are teachers, college students and professional coaches that are not only phenomenal leaders, but are trained in CPR and First Aid. Directed by a dedicated leadership team comprised of adults, Kids Playing Camp Inc. is designed to play up fun and safety.
Director/Owner:  Kathy Chuckas

Kathy is the founder of Girls in the Game (formerly A Sporting Chance Foundation) and has been a coach and a mentor for the past 30 plus years. She has received numerous awards and public recognition for her work with youth, including the prestigious Mercedes Mentor of the Year Award and Sports Women of the Year Award  and Non-Profit from the National Sporting Goods Association. Kathy is the mother of four teenagers and young adults and in her spare time coaches basketball,  softball and is an amateur photographer.
Kathy is on-site each and everyday while camp is in session guiding the campers and staff. Who knows you might just catch her jumping off the high dive…a camp tradition!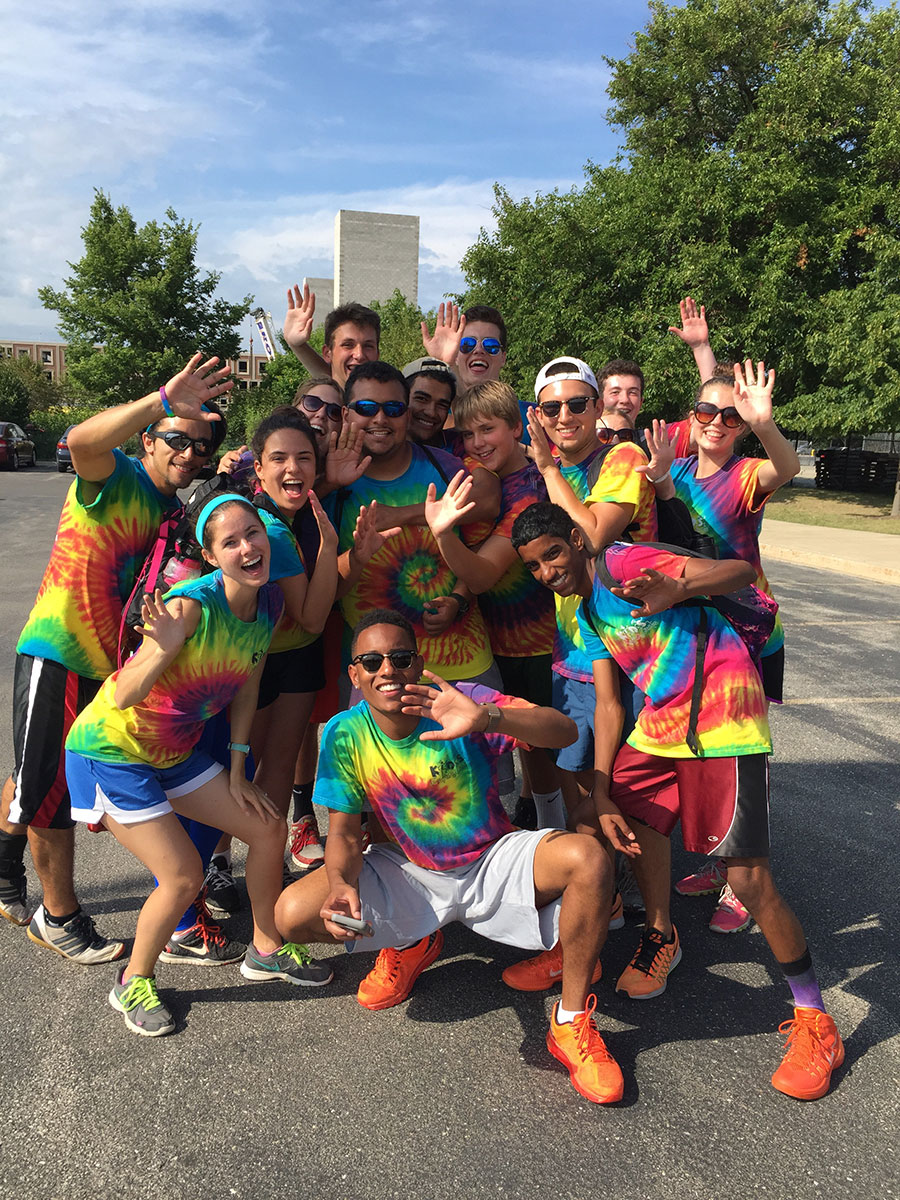 Clinical Social Worker:  
Elizabeth Holzhauer
With over 28 years of experience in education, and extensive experience providing counseling services and programs for adolescents and families, Beth brings a depth and breadth of skills to her role for Kids Playing Camp Inc. She is a Licensed Clinical Social Worker, and currently a Staff Therapist at Womencare Counseling Center in Evanston, and holds a Type 73 Certification from the Illinois State Board of Education. Beth Holzhauer earned a Bachelor of Science degree in Zoology from the University of Wisconsin and a Masters of Social Work degree from the University of Illinois at Chicago. When not working, she is an avid runner, plays the french horn and loves to read in her spare time.
Assistant Camp Directors:  
James Chuckas, Vanessa Herman and Max Guadarrama
James will oversee the No Limits/Out of Bounds Program, Max will oversee 3rd -5th grade and Vanessa will oversee the k-2nd programs.
Head P.E. Coach:
Georgina Sagert
Georgina directs all sports/pe games and activities.
Head Outdoor Survival Skills:
Colin Meyer
Colin will offer to campers 3rd and up opportunities to learn Outdoor Survival Skills through a curriculum he has created at Baker Demonstration School.
Head L.I.T. & C.I.T.Mentor:
Sidney Chuckas attending USC in the fall.
Head L.I.T. & C.I.T. Mentor:
Violet O'Neil attending Tulane University in the fall.
Professional Team Leaders:
Kids Playing Camp hires professional teachers, social workers and instructors to serve on the Leadership Team. Our Professional Team Leaders are from throughout Chicago and the surrounding suburbs with one thing in common…they know how to play and have fun while ensuring your children are safe and secure under our care.
ALL LEADERSHIP TEAM LEADERS ARE CERTIFIED IN CPR/FIRST AID and receive training in program planning and age-appropriate activities for camp settings. All Professional Team Leaders have background checks each year.
College Coaches:
Kids Playing Camp Inc. hires college students from throughout the country to be a part of our team. Our College Coaches attend Tulane University, USC, McAllister,  Nazareth College, University of Notre Dame, Marquette, University of Michigan, University of Illinois, Augustana College, DePaul, Loyola, Northeastern Illinois University, Carthage and University of Wisconsin – Madison; just to name a few!
ALL COLLEGE COACHES ARE CERTIFIED IN CPR and receive training in age-appropriate activities.  All Leader & College Coaches have background checks each year.
Guest Coaches:
Kids Playing Summer Camp will have weekly guest coaches from the Chicago area to teach the children in the areas of music, arts and crafts, child safety and Kids in the Kitchen.
– Wild Side
– Chicago Athletic Club
– Self Defense
– Brunger Chocolate Magic
– Local Police and Firefighters
– Visiting Artists of ALL talents
– NEIU Staff and Students
High School Youth Leaders:
Area students will serve as youth leaders for the summer. These outstanding young women and men will assist in playing games and activities with the campers, serving as a role model one-on-one and assisting in administrative tasks. They attend  Gordon Tech, Whitney Young, Jones College Prep, Latin, Senn College Prep, Lane Tech, St. Ignatius, Notre Dame College Prep, Loyola Academy and Evanston Township High School.
Bottom line, we know KIDS. And we know how to have FUN.
CONTACT
847.323.1394
kidsplayingcampregister@gmail.com
kidsplayingcamp.org
NORTHEASTERN ILLINOIS UNIVERSITY
CAMP HOURS
8:00 a.m. – 8:45 a.m.
Drop Off and Free Play
Camp Rotations
9:00 a.m. – 3:15 p.m.
4:15 p.m.-5:15 p.m
Aftercare – $10 per family per day
CONTACT
(847) 323-1394 kidsplayingcampregister@gmail.com http://kidsplayingcamp.org/ http://www.facebook.com/KidsPlayingCamp
NORTHEASTERN ILLINOIS UNIVERSITY
CAMP HOURS
8:00 a.m. - 8:45 a.m. Drop Off and Free Play Camp Rotations 9:00 a.m. - 3:15 p.m. 4:15 p.m.-5:15 p.m Aftercare - $10 per family per day